If you've never heard of the millionaire mindset, now's the time to learn.
One of the key aspects of the millionaire mindset is having a strategic game plan that will smooth out the ups and downs of each economic swing. That being said, we want to personally invite you to a class that will teach you about growth, mastering the millionaire mindset, and negotiating real estate shifts. At this class, you will learn about five specific things you can do now to maintain a profitable business in a down cycle.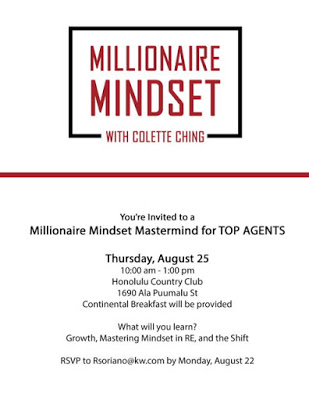 "Don't be unprepared for the inevitable market shift."
Don't be one of those agents that's unprepared for the inevitable market shift. We have personally implemented these strategies, and they work. The only regret that you'll have after attending this class is that you didn't learn this information sooner.
If you have any questions in the meantime, give us a call or send us an email. We would be happy to help you. Thanks, and Aloha!